Thank you for considering donating to the Abundant Life Center.
You can donate right here using JustGive, a safe and convenient way to support your ALC community. Click on the Donate Now button below and you will be taken to a secure site to complete your donation. JustGive will send you a receipt for tax purposes.
Please consider adding 4.5% to your intended donation amount to cover the JustGive processing fee. It is entirely optional, and we would be most grateful if that is your choice.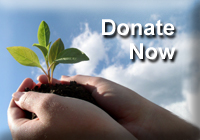 When you go to the above page:
Click on the headings to provide all required information.
Your donation will go to the "General Fund" unless you choose "Other" in the Program section and tell us that you want your funds to be used for a specific purpose.
You may dedicate your donation in honor of, or in memory of, a specific person.
Would you like to make recurring monthly donations? Be sure to check that option. Your credit card will automatically be charged on the first of every month.
Alternatively, you may send a check by mail or contribute during any Sunday Service.
Send mail to:
Treasurer
Abundant Life Center
PO Box 61787
Vancouver, WA  98666